UUAA is part of an interfaith group of 15 area congregations, the "Good News Group" that has been working together since 1997 in partnership with Habitat for Humanity of Huron Valley. We have helped 38 families (with over 70 children!) move into affordable, very energy efficient housing, primarily in Ypsilanti neighborhoods. We help families, neighborhoods and the environment– and we laugh and have fun doing it. Click on this link to view a map of the homes we have built and renovated in the Ann Arbor and Ypsilanti area.
Each summer UUAA sends about 30 volunteers to paint, hammer, do yard work and much more! And of course, we always need your donations to help pay for the materials for Habitat for Humanity homes. Use this Donate button to make an online donation (be sure to select "Habitat for Humanity" in the drop down selection list).
---
*New* Opportunity – Oct 14, 2023 Neighborhood Beautification Day
Date: Saturday, Oct. 14, 2023; Time: 9 AM – 1 PM
Location: New West Willow Neighborhood Association's Community Resource Center,
2057 Tyler Rd., Ypsilanti
Join West Willow residents and other neighborhood supporters in activities to beautify the West Willow community! This year's program includes family activities. Volunteers ages 14+ are welcome. (Those under the age of 18 must be accompanied by an adult.) Children 8 and over will build bird houses!
Download the flyer to read more details.
---
Our 2023 Good News Home Renovation
The 2023 Good News Home is located at 1120 Studebaker Ave in Ypsilanti.
Work days are Fridays and Saturdays June thru September from 8:30 am to 3:30 pm this year.
The 2023 work days are now completed. You can still download the flyer for this year's home.
THANK YOU to all of the volunteers who worked on the site and provided lunches this year. An AMAZING amount of work was accomplished as these before and after photos show.
A family has not yet selected the house. Watch for an update on the family in Spring 2024.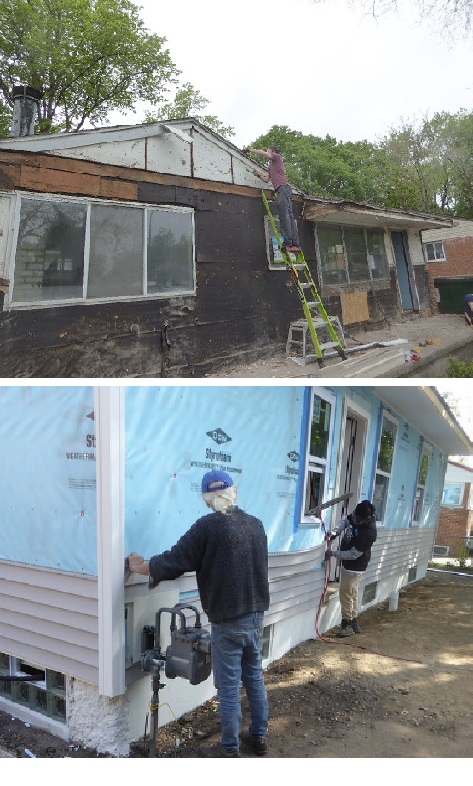 ---
Location
The 2023 Good News House is located in the West Willow neighborhood in Ypsilanti- 1120 Studebaker Avenue.
Please note that parking is very limited near the house, so you may need to park further away and walk.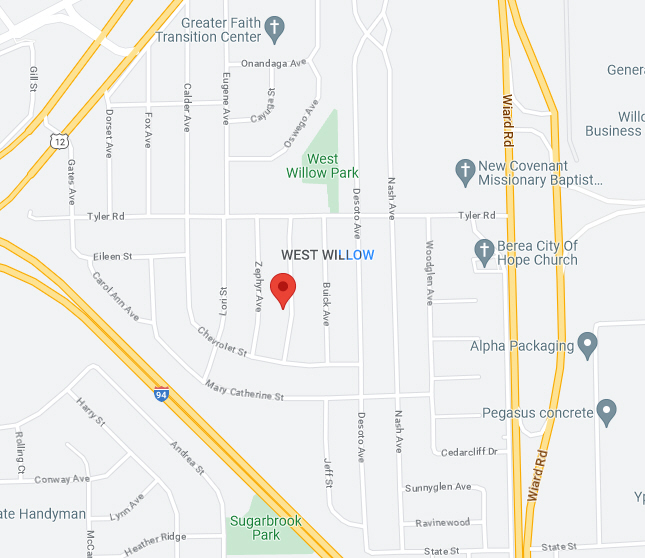 Handy Information
All volunteers must complete a volunteer waiver once each year. This year there is a new online system that is easy to use. You will receive an email asking you to confirm your volunteer date. A checkbox on that page and an electronic signature quickly confirms the waiver for the year. Or you can download and print a paper waiver.
Site workers should wear comfortable clothing and shoes that you don't mind getting splashed with paint or mud or sawdust!
No special skills needed! You will be taught how to carry out tasks that are new to you.
All tools are provided. You can bring your own tools if you want, but please mark them to make sure they go home with you!
The site work can include installing insulation, installing windows, floor repair, wall repair, caulking, installing blue board, cabinets, shelving, fixtures, lighting, painting, landscaping and other related work.
Questions? Email habitat@uuaa.org .
To see photos of site work and read more about the Good News Group, go to the Habitat for Humanity Huron Valley Good News website.
---
Good News Group — UU's hard at work
Time to put the house back together