2021-22 Annual Meeting, June 5th
The 2021-22 Annual Meeting was held on June 5th, 2022 at 10:30 am, over Zoom. The proposed bylaw changes were adopted and the slate of new members of the Board of Trustees and Leadership Development Team were elected (see below). You can still download the packet for the meeting using this link.
Hero Awards
The Board of Trustees presented Hero Awards to the following people.
Ed Lynn – for setting the standard for leadership and efficacy in All things Administrative to keep UUAA functioning, accessible and accommodating for the congregation and community over the last seven years as "Interim Administrator," all without remuneration.
Sally Preston – for a remarkable history of lay leadership, most recently as Chair of the Social Justice Council for the last three years, supporting and coordinating the congregation's 25 individual social justice groups especially during this time of transition.
Hannah Hotchkiss – for epitomizing "Radical Welcome" in all the crucial work she does, from welcoming new members, to Sunday Services, to special events and gatherings and a myriad more, all expertly executed with warmth and grace.
Rick Witten – For his good humor shared with the congregation during critical communications, and for his leadership, most recently as Board Secretary for the last four years, and Co-Chair of the Vision 20/50 Steering Committee for the bulk of those four years.
The ministry and staff, for creatively steering us through these pandemic years:
Ed Lynn
Reverend Manish Mishra-Marzetti
W. Carter Smith
Reverend Cassandra Hartley
Reverend theresa rohlck
Hannah Hotchkiss
Stella Anderson
Allison Halerz
Mike Halerz
debita graham
Robert Graham
Erin Dixon
Hanh Bui
Recognition and sincere thanks were given to:
Paul Morris, ending his term on the Governance Committee
Hannah Hotchkiss, completing 15 years of service to UUAA
Allison Halerz, completing 15 years of service to UUAA
Vilma Mesa, for much appreciated service to the Personnel Work Group
Kathy Edgren, transitioning off the Board
Rick Witten, transitioning off the Board
Ed Lynn, "retiring" Interim Administrator
Learn about the bylaw changes adopted at this meeting.
Read the rationale for the bylaw modifications
Elected to the Board of Trustees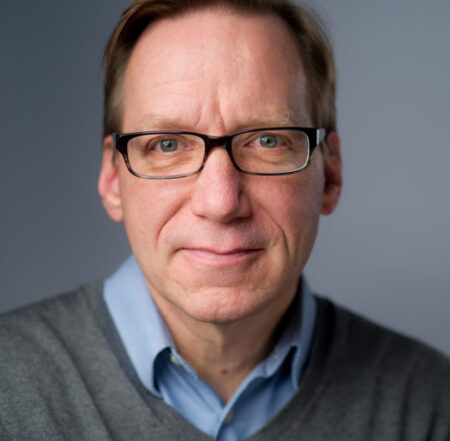 Vice President: Gregg Peterson
I am honored to be considered for a second term on the UAAA Board of Trustees. I've participated widely in the life of this congregation since moving to Ann Arbor with my wife and daughter over 13 years ago.
My family and I have been nourished by all that this congregation has to offer — warm friendships, inspiring services, an amazing community of musicians, small-group ministries (I'm a member of the 7th men's circle), many opportunities for spiritual growth and development, and the chance to serve this congregation. In my time here I have been an SGD teacher, a member of the SGD Council, a coming-of-age mentor, a planner and leader in the activities of the men's fellowship, a member of the newly formed LOV (Living Our Values) team, a member of the bass section in the Chalice Singers choir, and for the last two years, a member of the Board of Trustees.
I am hopeful and excited about the future of UUAA, including our Vision Priority Areas, and I look forward to serving for another two years in support of all that we do together.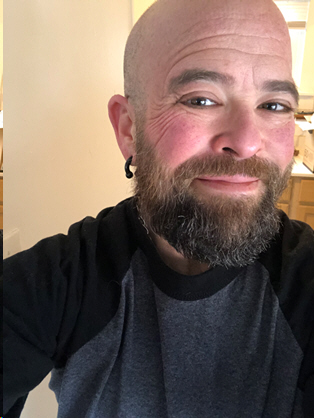 Secretary: Joe Libin
I would like to present myself as a candidate for the position of Secretary on the UUAA Board of Trustees. By means of introduction I have been a member of UUAA since 2019. My first service to UUAA was joining the choir, which I did joyfully. I subsequently signed the Big Book in March of that year and began serving on the Jackson Social Welfare Fund Committee as well. The following year I was honored to be asked to serve on Rev. theresa's Committee on Ministry. This year I have also been asked to put together the lay-led Trans and Non-Binary voices service in late March of this year.
As a relatively new member of the UUAA I am passionate about helping us move into the future digitally and socially. As a professional Tech Support person, I am very comfortable with Google Docs and Zoom. As the Secretary for the Board, I would ensure that all communications are timely and clear. I am eager to learn all about the Board and the role of the Trustees, and I have the time to make myself available for meetings, retreats and other functions. I would be honored to serve our congregation in this position, and I believe I am qualified to make a positive impact both here and abroad.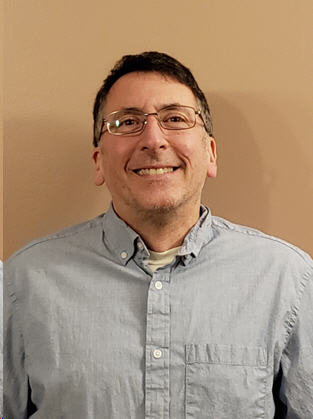 Trustee at Large: Jeff Poliner
I have been an active member of the UUAA community since moving to Ann Arbor in 1996. Shortly after joining, I started participating in the 20s/30s group and have maintained many friendships from that group since. A few years later I was part of forming the 2nd Men's Circle which continues to meet regularly to this day. I have also served on the Green Sanctuary committee from 2000-2004 and was a co-chair that helped play a pivotal role in obtaining the Green Sanctuary certification from the UUA.
Over the years, I have also been highly involved in the religious education program having taught almost every RE/SGD level class from pre-school to my current role as a YRUU advisor. In addition, I have served on what was previously known as the RE Advisory Committee. Throughout this time, I have served on a previous Board of Trustees, and been on the Nominating Committee, the Auction committee, helped plan Men's Retreats and Men's Dinners, as well as served a term on the Men's Council.
Outside of the congregation, I am an engineer, currently working for a manufacturer of medical devices based in Kalamazoo. I enjoy cycling, cross-country skiing, reading, cooking, and playing board games and euchre. My fiancée, Helena, is one of the newest members of this congregation, and we will be getting married this summer and look forward to traveling again beginning with a trip to Croatia.
I am honored to be considered for a position on the Board of Trustees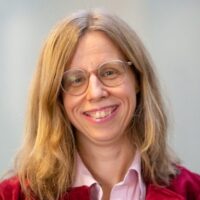 Trustee at Large: Henrike Florusbosch
Henrike and her husband moved from the Netherlands to the US to study and work at the University of Michigan and discovered Unitarian Universalism after a few years here. They signed the membership book in 2007, when their oldest daughter was in preschool (and the other children weren't yet born).
Over the years, Henrike taught SGD classes from Kindergarten to 6th grade, and served on the SGD committee. The Vision 20/50 process made her realize the many ways in which the congregation, and its covenantal approach to bringing about the beloved community, had become a core part of my life in helping me align more closely what I think, say, and do. She has been honored to serve on the Board this past year and hopes to continue working with her fellow board members to do our "little bit of good where we are."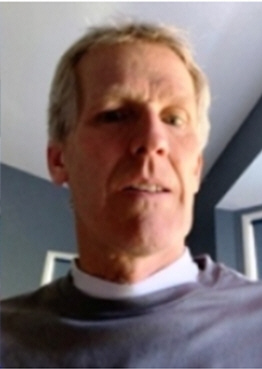 Trustee at Large: Glenn Harris
I'm honored to be considered for a second term on the board and continue this important work with such a dedicated group. I've been a congregation member for seven-plus years, after attending for some years prior to that; I've served as a mentor in the 'Coming of Age' program (3 years) and participated in Habitat work projects. I am currently a member of the Men's Council as well as of the 12th Men's Circle, and I learned much from my work as a Vision 20/50 project ambassador.
I'm a husband, a father, a grandfather; professionally, I'm an educator, a writing instructor, and since 2002 have been on the English faculty of Mott Community College in Flint.
After an early life as the son and brother, cousin and nephew, of ministers, and then after many years disconnected from religious community, I am now deeply grateful for this congregation, for its ministers, and for the spiritual home and centering it has provided for me. I will be honored to continue serving this congregation and community, working to help it thrive far into the future.
Elected to the Leadership Development Team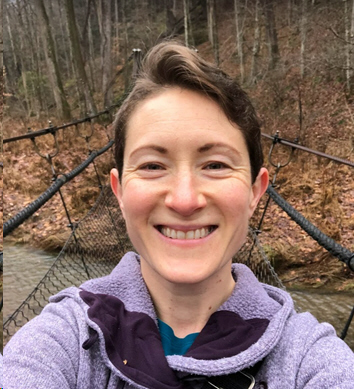 Arika Lycan
Arika Lycan (they/them/theirs) is a positive, enthusiastic person who enjoys making connections and engaging in community. Arika hails from Columbus, Ohio and has resided in Ypsilanti, Michigan for the past 20 years with their partner, kiddo, and two cats. Arika has been a member of UUAA for the last 4 years, since December, 2018. Upon joining UUAA in 2018, Arika helped to start the "Caregivers and Kiddos" group for parents and their young children (pre-preschool age). Arika joined the Racial Justice Arc group as a co-leader in May of 2021, where they help guide that group along with Cindy O'Connor, and they also serve on the Shared Ministries Team (SMT).
Outside of UUAA, Arika has worked in the nonprofit field in Washtenaw County for 15+ years. They've worked at CHIME, based in Ann Arbor, for the last 5 years as the Director of Corporate Member Services. Arika is committed to continued anti-racism and anti-oppression work both in their personal life and within their circles of community (UUAA, at their job, in Washtenaw county, etc) . They graduated from Eastern Michigan University with their Bachelor's degree in Social Work, and The Ohio State University with their Master's degree in Social Work, focused in Social Administration. Arika enjoys all things outdoors, including biking with their son and hiking at Pinckney Recreation Area. They are a voracious reader and enjoy listening to music and playing board games with friends and family.
2021-22 Annual Report
The 2021-22 Annual Report can be viewed or downloaded using this link. You can read the individual reports as separate PDF documents as listed below:
UUAA Staff and Leadership
Spiritual Life
Social Justice and Environmental Action
Community
Arts and Aesthetics (dormant)
Bridge Group (dormant)
Caregivers and Kiddos
Community Walk and Talk (dormant)
Ignite Young Adult Group (dormant)
Kaleidoscope
Round Robin Dinners (dormant)
Unity Group and Forum Advancement Ministry (dormant)
Wednesday Morning Readers
Stewardship
Annual Auction (postponed due to the COVID-19 restrictions)
Planned Giving
QUUest Book Store (dormant)
Culture
Accessibility and Inclusion Ministry
Support Teams
Communications Committee
Office Team (dormant)
Room Team