2022-23 Annual Meeting, June 4th, 2023
The 2022-23 Annual Meeting was held on June 4th, 2023 at 10:30 am, over Zoom.
Members of UUAA voted to elect five members to the Board of Trustees and two members to the Leadership Development Team. See below.
Meeting Materials
Draft minutes from the 4/30 /23 Special Congregational Meeting
Board of Trustees – Elected June 4th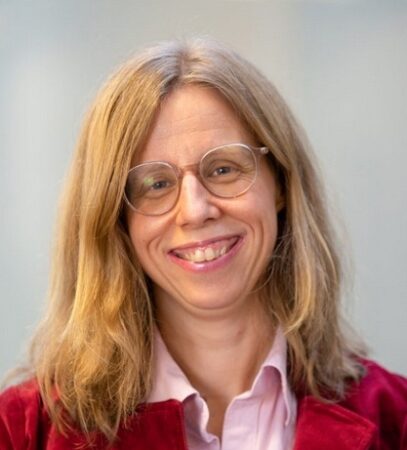 President: Henrike Florusbosch
I am honored and excited to stand for election as president of the Board of Trustees, on which I served as member-at-large for the past two years. UUAA has been an important part of my and our family's life since we moved here from the Netherlands two decades ago. Over the years I have taught SGD classes, served on the SGD committee, been part of Chalice Circles, and participated in social justice activities, including those connected with Vision 20/50. I believe our congregation and faith tradition can do a lot of good in the world at a time when this is sorely needed. bell hooks' reminder to live purposefully and with commitment–taking responsibility for consciously creating goals, identifying the actions necessary to achieve them, making sure our behavior is in alignment with our goals, and paying attention to the outcome of our actions so that we see whether they are leading us where we want to go–is an inspiration for me personally, and what I have experienced as a member of the BoT and this congregation (bell hooks, All About Love: New Visions).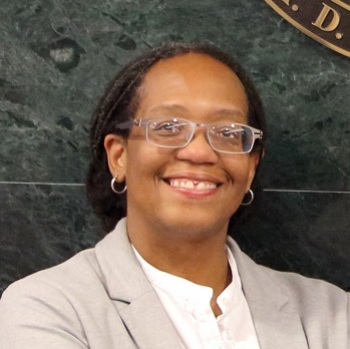 Treasurer: Kerene Moore
S. Kerene Moore is currently a Referee and Judicial Attorney in Michigan's 22nd Circuit Court. She attended the University of Michigan for undergraduate and law school where she was honored as one of the first Dean's Public Service Fellows. Ms. Moore has worked her entire career to guarantee that all persons — particularly the most vulnerable — have fair and equal access to the justice system. She has represented over 1,000 low-income community members at the Michigan Advocacy Program, fought discrimination at the Michigan Department of Civil Rights, and is the founder of OUTreach, an award-winning pro bono lgbtq+ legal advocacy project with Michigan Law's Outlaws. She has an extensive public service history, including serving in an executive capacity on the boards of the Jim Toy Community Center, State Bar of Michigan LGBTQA Law Section, Washtenaw County Bar Association LGBTQ Rights Section, and the Ann Arbor District Library. She has also served on the Equality Michigan Board of Directors, the Ann Arbor Human Rights Commission, and Women Lawyers Association of Michigan. Kerene currently resides in Ann Arbor with her spouse and three children.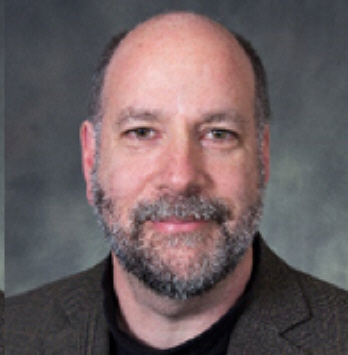 Trustee at Large: David Kohn
I have lived in Ann Arbor for over 30 years and my family (Lisa, Sam and Tim) and I have been members of UUAA since 2004. I am currently a member and treasurer of the Social Justice Council, and have previously served as a coming of age mentor and helped teach in the SGD program. I have also volunteered at Alpha House and served on the newcomer's welcome committee. We started coming to UUAA when our children were young and relished the SGD program that they grew up with. As an empty nester now, I am able to dedicate more time to UUAA, which has provided a beautiful home for us. I value the free-thinking and discourse provided by the Congregation and the environment that enables us to live our values. The most important element of my membership in UUAA has been the relationships that have been built. I have served on Boards and as President of professional (scientific) societies, so I have experience in activities, governance and financial aspects of non-profits and volunteer work. I am honored to have been nominated as a candidate for the Board and look forward to the opportunity to serve our Congregation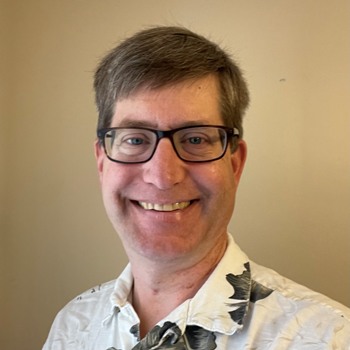 Member at Large: Kyle Pellar-Kosbar
Hi, I have been a member of First UU of AA for 25 years (and a UU for about 29 years). My biggest congregational involvement in the past has been as a Spiritual Growth and Development (SGD) teacher for the past 16 years. I have also been the parent of two children going through the SGD program, served on the SGD committee for the past two years, and on Reverend Cassandra's Ministerial Advisory and Support Team.
Outside of UUAA, I am electrical engineer, working for an automotive supplier and spend time puttering in my yard and walking my dogs.
I am interested in being a part of the Board of Trustee's to serve the congregation in a new capacity, and to bring my previous experience to the decision-making of the Board.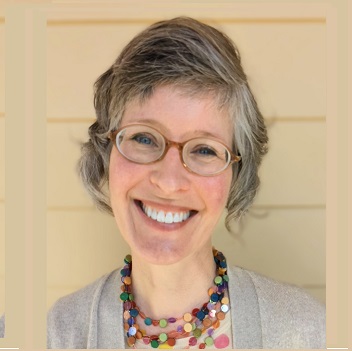 Member at Large: Kyla Boyse
Kyla has been a friend of UUAA since the 1990s and a member for over 20 years. She has served in the children's Spiritual Growth and Development program, as a Coming of Age mentor, as a member of the Chalice Singers, as a co-chair and member of the Jackson Social Welfare Fund committee, as an Alpha House volunteer, and on two ministerial committees. Kyla and her spouse Scott have raised three children in our UUAA congregation. In UUAA, we have found profound (and even salvific) community, grounding, values-in-action, and meaning.
Outside the congregation, Kyla works as a pediatric primary care nurse practitioner, and enjoys running, walking, gardening, music, and cooking.
Leadership Development Team – Elected June 4th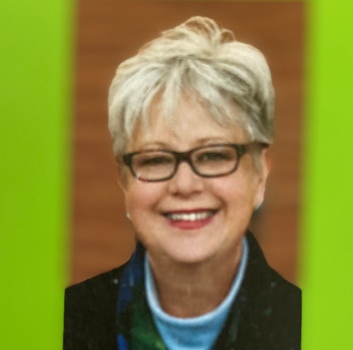 Kim Clugston
My name is Kim Clugston and I serve this congregation as the Chair of the Leadership Development Team. I was appointed to the LDT in 2021 for a two year term. I am now running for election for a second two year term.
I became a member of UUAA in 2004. I served on the Board of Trustees as Treasurer several years ago. I helped form the Garden Stewards in 2020 who maintain the Memorial Garden and other garden beds surrounding our buildings. Last November, we formed the Bucket Brigade which helped staff with indoor cleaning tasks. I am serving on the newly formed Land Management Team.
What I learn at UUAA is how to help build and maintain our community whether tending our gardens or nurturing our leadership development- in teamwork with many of you.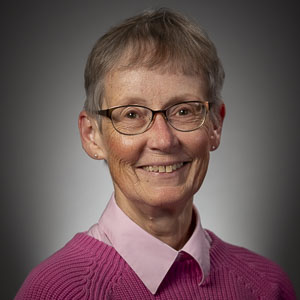 Sandy Breck
I've been a member of UUAA for more than 30 years. My work with UUAA includes: a term as Board Secretary, teaching religious education, and pastoral care as a member of the PC Team, coordinating the Visitor Team, Parish Nursing, and leading the Mindful Aging discussions with congregants. In the community, I am a member of the Housing Bureau for Seniors planning team for Senior Living Week, and I help with butterfly monitoring, and I weed a community rain garden with other great volunteers. For fun, I crochet and do cross stitch, try new recipes, practice long-distance grandmothering, and learn from the OLLI lectures. I completed UUA's Leadership Institute online course "Lay Spiritual Care". I look forward to helping identify and nurture leaders within our congregation as a member of the LDT.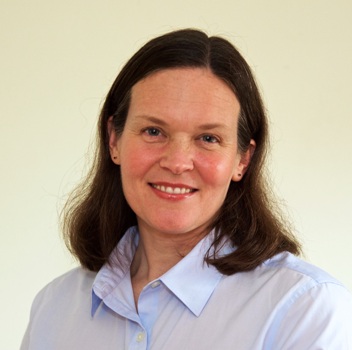 Kate Thomas-Palmer
When my family and I first came to UUAA about 13 years ago, we were welcomed by a group of open-minded folks. Since I had two young children then, I became involved in the SGD program, including teaching the younger groups. I have enjoyed working in Farmer Bill's garden with UUAA, and joining groups like Me and White Supremacy book circles and volunteer opportunities in various realms. Currently, I am a mentor for a Coming of Age participant, and the reciprocal learning we are doing is invaluable. UUAA is important to me because it provides a safe haven for people from all walks of life. I am particularly drawn to this congregation because I believe in social justice, social connection, and social work. In joining the Leadership Development Team, I hope to use my experience as a therapist to guide others in a supportive way toward understanding their own place at UUAA.
2022-23 Annual Reports
The 2022-23 Annual Report is also available as one document in PDF format.
You can read the individual reports as separate PDF documents listed below. If a report was not submitted, no link will be associated with the group name.
UUAA Staff and Leadership
Spiritual Life
Social Justice and Environmental Action
Community
Stewardship
Culture
Support Teams